So, you want/need to get off and you don't have much time? Maybe your girlfriend's running errands. Maybe your roommate went to hit on the girl next door. Maybe it's halftime. Maybe you work from home and you have a few minutes between tasks. Whatever it is, I'm not here to judge, I'm just here to help. Your initial thought when it comes to a self-quickie might be regular porn movies, as you might not think that live sex cams can provide that fast orgasmic experience. But as someone who's obsessed with cams, I can vouch for how good they are when you're in a time-crunch.
Rely on Established Cam Girl Relationships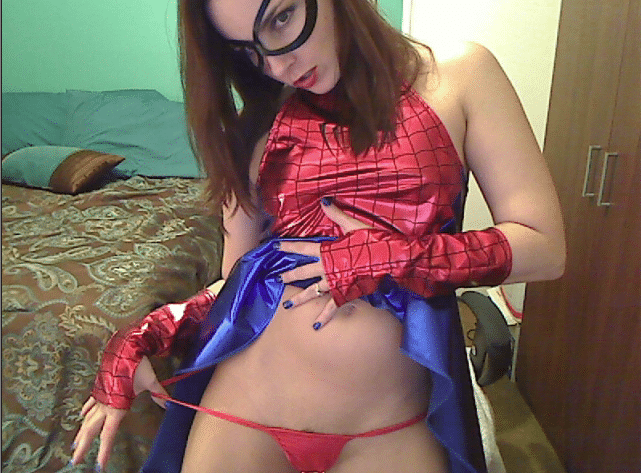 In real life (IRL as the cool folks call it these days) if you want sex and don't have much time, what makes more sense? Hitting on a girl you've never met, or texting "u up" to some babe you've hooked up with multiple times in the past? Obviously, it's the latter. Well, that same basic principle holds true for sex cams.
When I'm in a rush I head to one of my favorite sites such as Rabbits Cams or Jasmin.com and make a beeline for my favorite girls (AmberLily for example, whom I wrote about in my post My Favorite Redheaded Cam Models). With AmberLily, as with other girls I've talked to many times before, there's a relationship there already. She knows who I am, she knows what I like and I know what kind of performer she is. With the girls you get to know intimately, there will be an ease to your communication that will have you reaching levels of orgasmic pleasure in the minimal time you have.
Tip the Girls Generously
In fact, some of my favorite women know me so well that when I tell them I only have a few minutes, they don't hesitate to give me the show they know I want. And when I do get the really short shows, I try to tip the girls generously afterward. I know that a short performance isn't very profitable and I want them to know that I appreciate them (and, of course, a nice tip means they're going to be very willing to help me out the next time I need a quickie).
No Relationship, No Problem
While the idea of using established relationships is a great one – and one I take advantage of often. I understand that it might not always be a feasible one. Maybe the girls you know well just aren't online when you have your little window of opportunity. Or maybe you just don't have specific cam girls that you are that well-versed with to begin with. Well, that isn't a problem at all.
Most sex cam sites – including Rabbits Cams – offer free public chat with the online cam girls. Use that chat as an opportunity to ask her straight up what she is open to doing in her private sessions and if she is okay knowing you only have 5-10 minutes and need to get right to it quick.
Of course, BE POLITE! But honesty like that means the model knows the situation and can be honest right back. Then, with that info you can dive into an exclusive cam chat or leave the room and check out another babe with little time wasted.
Another suggestion I would make would be to use any advanced search tools to quickly filter up just the performers who speak English (or, whatever language you are most comfortable in). When you don't have much time to spare, any time wasted due to a language barrier could mean the difference between getting off or not being able to finish in time.
Check Out Solo and Hardcore Action on Free Sites
I know how good free sites can be for live cam quickies. But just as a test I gave myself 10 minutes before I started writing this post to achieve full pleasure. And to be honest, I didn't even need the full 10 minutes. I decided to check out Strip Chat (but Chaturbate, My Free Cams and others in my Free Cam Sites list would work just as well). I got to the site and literally (yes, I mean literally) within 10 seconds I was watching a model give her man a great blowjob.
Tipping is a major source of income for the performers on free sites, so they often put on shows in the free room in order to entice tips from members, or they do specific things as various goals are reached. Either way, there's so much nudity – both girls on their own and couples (straight and lesbian) – that's made all the better because it's happening in real time. It's a very different experience from the private show with familiar beauties that I talked about earlier. But variety is the spice of life and live sex cams have you covered regardless of your desire for how you want to achieve orgasm in your small timeframe.
Live cams are awesome. Go check them out no matter how much time you have!