Head on over to Trans Live where you can spy on naked transsexuals for free with relative ease. These Fair warning, these Shemale live cams can get pretty naughty. Send me your comments via email.

Pros
Can usually find free nudity and naughtiness
Cheap spy cam and group-chat options
Good design and navigation
Cons
Private chats can be expensive
Some poor-quality cams
Fewer shemales online compared to other performers
Bottom Line
On Trans Live they have trannies and females and guys and couples all waiting to play on cam for you. Pick a section or use the filter/advanced search tools to find exactly what you want. And if what you want is to not pay a cent then with a little browsing you can almost always find performers getting naked and naughty in order to get tips from the folks in the room. But you get to enjoy it whether you tip or not. Have fun!
My Full Trans Live Review
When They Say Free They Really Mean It!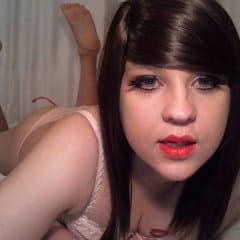 The tagline for Trans Live says "Free Live Sex Cams." Now, when I first saw that I didn't think twice because, as we all know, most cam sites try to use the word free in order to entice us, but it doesn't always mean you'll be able to see any nudity without paying. Well, within the first three minutes of being on the site for the very first time I was watching some tranny with small tits and a very feminine face stroke her rather large cock while smiling at the camera. I guess "free" isn't just a buzzword on this site!
Gotta Love those Ladyboys
I'm currently watching two Asian ladyboys suck each other off in a 69 position…. Oh wait! Someone just took them private so I'm no longer watching them. I could spy on the private chat if I want, but I should probably focus my attention on finishing this review.
So, to recap, there's a private chat option and a spy option (unless the person in private chat pays for the full, more expensive, private and not just the basic) and there are also group chats. As for the prices, there are multiple token packages and the more you buy the cheaper the per-token price becomes. At its best you're looking at about 12 cents/token and the most expensive comes to around 20 cents/token.
Spying is Always Hot
The spy option will only cost you 7 tokens/minute, while the full private chat goes for 45 tokens/minute, which comes to more than $5/minute, and a regular private chat is 30 tokens/minute (around $3.60/minute at its best). Group chats are half price, 15 tokens ($1.80)/minute.
Looking at those prices the full private chat is kind of expensive, but spy mode is nice and cheap and a great way to piggyback on a show that someone else is paying for. Sure, you can't control anything in the show, but sometimes I just want to watch and spying is perfect for that.
But what about the free stuff, you ask? Well, you can definitely just go looking for free naughtiness and you'll usually find it. You see, folks can tip the performers so many of them will put on a show in order to garner your tips. The more people tip, the more they do, but whether you tip or not, if you're in the room you get to reap the visual rewards!
Cam Quality Can Be A Hit or Miss
And speaking of visuals the cam quality is hit or miss. There are some performers with awful-looking cams and others with very nice image quality. Some are marked "HD," but not all of them looked as good as that moniker suggests. But having said all that, I've usually been able to find multiple trannies who appealed to me with cam quality that appealed as well.
You Can Have A Lot of Fun on This Site
The design is pretty standard and they offer all of the category filters/settings and advanced search options that make navigation a pleasure. Also, there are female, couples and male sections so it isn't only trannies you can explore here. However, one thing that does bug me a little is that most of the time the smallest number of live cams has been in the transsexual section - and sometimes by quite a large margin. For a site called TransLive you would think they'd be the largest group most of the time.
In the end, this is a good Tgirl sex cam option. I enjoyed having the option to go private or group chat or spy on a show, but it's also great that there's almost always some free nudity going on and if not, you can throw in a small tip and get it started yourself. Check it out.
Click Here To Visit Website
Similar Trans Cams

Go Shemale Cams is a transsexual cam site where male performers are in the process of becoming a female. Watch these beautiful performers live on cam.

On ShemleCams.sex you'll find lots of hot Tgirls performing on HD webcams. There's a variety of show options, with private, party and gold ones, which are a cheaper option.
Get Top Email Deals on Trans Cams!
Tokens, minutes and other incredible deals - FREE!

Take your trans-loving experience to the next level with My Tranny Cams. There are beautiful shemales with nice bodies live on cam, looking to chat and play with you right now.

One great feature on Trans Live is that you can often find naked Tgirls on cam for free. There are many chat options in fact, as well as lots of shemale performers to choose from.

For only $1/minute you can have live sex with hot performers on Tranny Cam Models. You can use the advanced search engine to find the perfect transsexual for you.

Ladyboy Cams is easy to navigate and it's completely free to browse. More good news is that when you decide to have a private sex chat, it'll only cost you $0.99/minute!

There's a good variety of trans performers on Shemale.com. You'll find a good search engine as well as informative articles and, of course, all the sexy Tgirls on their webcams.