On Shemale.com the live cam portion of the site is decent. The tranny models are definitely hot but it's the magazine articles and blogs that make this a totally unique Tgirl sex show site like no other. Any thoughts? Email me.

Pros
Advanced search engine
Interesting and informative articles and blogs
Performers have varied looks and ethnicities
Cons
Some average-quality cams
Must purchase credits to register
Some design issues with the mobile version
Bottom Line
The live cam portion of Shemale.com is just one aspect of what this site is providing you with. It's meant to be an exploration and trannies and the lifestyle, so beyond the live cams they also have magazine articles, feature pieces and lots of blogs. The complete experience is different and interesting, but the live cam section isn't as good as other tranny sex cam sites. But it doesn't cost you anything to browse.
My Full Shemale.com Review
Tons and Tons of T-Girls on Live Cams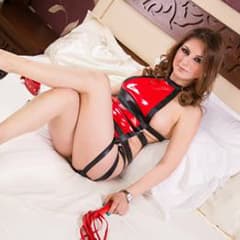 Shemale.com is more than just a live cam site. I think the best way to describe it is to quote from the site itself: "Shemale.com was created by a group of T-girls who became who they are with care, struggle and dedication. We'd love for you to understand our world and our lifestyle better and wish that our site can help you do that. And if you find yourself getting excited - well, then we've succeeded!"
Of course I don't know how much of that is true or how much is just advertizing copy, but it does seem like a pretty accurate way to describe the site now that I've spent some time on it. You see, the live cams are just one aspect of the site.
Lots of Different Cool Features
At the top of the page are six tabs. The first is "what's new" and it's pretty self-explanatory. The next is "webcam hosts" and this is where you go for the live cam experience. Then you have "magazine," a section with articles and feature pieces on transgender topics ranging from dating to entertainment news.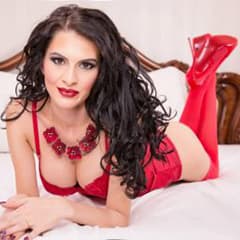 Next you have "exclusive videos" that you can watch with purchased credits, "local spots" that tells you about places to meet trannies in various cities and finally "blogs," which features posts from a collection of transgender bloggers.
It might seem like a crowded site, but I enjoyed all that other stuff. The articles are pretty interesting and all of it does provide a very complete tranny experience, unlike any other sex cam site I have seen – tranny or straight. But what about the cam part, you ask? Well, let me tell you about it.
There's At Least 50 T-girls Online At All Times
The times I have been on the site there have always been around 50 or so trannies live on cam. You will see some indicating that they're in a "private chat" and others marked "free chat." Click through and for free you can chat with them and check out the quality of their cam before deciding to take them private or not.
When it comes to quality if can be a little hit or miss. Thankfully, many of the performers do offer HD cams and they're marked with a little icon, but while some of them look great, I have come across others that didn't live up to my expectations of what HD should be, which is just another reason to check out the performers in the free chat before going private. The other cams look average at best.
You can Browse Without Having to Signing Up
At this point I have already signed up and purchased a few credits, but one thing that really annoyed me the first time I checked out the site was that when you sign up you have to buy credits to complete the process. Sure, you can browse without signing up, but after a while you will get notices to sign up and in the chat room you're only identified as "guest." I'm sure the performers know that this means you aren't a paying customer so they pay less attention to you.
The site's design is pretty good and even with all those extra features it doesn't feel too busy or crowded. There's also a mobile-friendly version that looks okay, but the "start private chat" button does get in the way of the cam window, which is annoying.
Private Experience Can Be Pricey But They're Hot
I have nothing bad to say about the trannies themselves. They're varied and sexy and the ones I spent private time with were friendly and open. And speaking of private time, the prices do vary, but most seem to fall in the $2-$4/minute range. As for those "exclusive videos" they'll cost you $3 each.
The overall site is a very complete transgender experience that goes beyond just live cams and this does make it stand out from other sites. But the live cam section just isn't as strong as a couple other sites in this category.
Click Here To Visit Website
Similar Trending Cam Sites

Euro beauties let it all hang out on XLoveCam. Their bodies get paraded on their good-looking cams and they're always ready and willing to get naughty during a live sex chat.
Go Nude Cams is a simple cam site with hot and horny female performers from all around Europe. The site is also mobile-friendly, so you can enjoy your live XXX chat on the go.
Be the First to Know!
Deals, free tokens, and minutes for the best sex cams. - Straight to your inbox!

The babes on Sexier.com sure do live up to the "sexier" moniker. There's a variety of xxx hotties to choose from. They're all beautiful, horny and ready to chat on cam.

Big girls with big butts and big boobs! All BBW Cams shines with voluptuous performers, HD webcams and xxx chats that will satisfy your cravings. Check out all these curvy babes.

For only $1/minute you can be having a live chat with a sexy Asian babe. These Asian Cam Models will get naked and play with themselves. And they do it all in HD.

Adult Friend Finder is one of the oldest and largest dating communities. They offer an advanced search and good community features. Find friends, dates and hookups.

You'll want to explore GoXXXCams if you like naked girls live and your cam shows free. There's so much nudity to enjoy here and the site is mobile-friendly too.

Cam4 has everything you want in a sex cam site. There are lots of girls online, many HD webcams and you can watch performers getting naked in live shows for free.

Head to Cam Place right now and, before you even register for an account, you'll be able to watch live HD cams featuring gorgeous girls. Many of the performers will be naked as well.

Take your trans-loving experience to the next level with My Tranny Cams. There are beautiful shemales with nice bodies live on cam, looking to chat and play with you right now.

There's a good variety of trans performers on Shemale.com. You'll find a good search engine as well as informative articles and, of course, all the sexy Tgirls on their webcams.