Sexy On Cams is a good cam site filled with lots of sexy babes performing mostly HD cams. There is no You'll easily find plenty of live webcam models with very reasonable per-minute prices. Send comments via email.

Pros
Mostly HD cams
Free chat rooms
Mobile-friendly interface
Cons
No advanced search
Some expensive cams
Incessant pop-up notices to register for free
Bottom Line
Sexy On Cams lacks a few would-be-nice features such as an advanced search and a "hover-to-view" function. However, almost all the cams are HD, the chicks are hot and horny and have a variety of looks, and you can check them out live on cam for free before deciding which ones you want to spend money on for a private chat.
My Full Sexy On Cams Review
Very Sexy Performers on Cam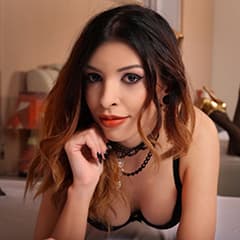 This is a very aptly named site give the women I find every time I visit. From coeds to MILFs, from thin to big, and all hair colors and skin colors. While I can't tell you how many performers are online all the time, I can tell you that I've checked out the site on multiple occasions and never found fewer than 400 babes available. Sometimes I like to just scroll through all of the online performers and sometimes I like to narrow down my search if I'm in the mood for something specific. The good news on that front is that there's a nice category and sub-category list where you can narrow down your search via age, hair color, body type, ethnicity, etc. The bad news is that you can only select one at a time – there's no multi-select tool and there's no advanced search.
However, it was never hard to find plenty of performers I wanted to see more of on SexyOnCams and one click on their preview image takes me into their live room where I can check out their profile, chat with them and see them live on cam. And it's all free. Although, if you haven't at least signed up for the free membership (no credit card required) you will keep getting notifications to do so, which can get annoying. So, just sign up and get them off your back. You still won't need to spend any money until you're ready to tip a babe or go for a private chat (or both).
High-Quality Babes and Cams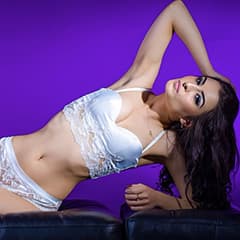 Having hot babes on a sex cam site is only half of its importance. The other half would be the quality of the cams and on Sexy On Cams that half is looking great as well. The majority of cams are HD and they look great, with sharp images and fluid motion. There are a few lower-quality ones scattered about, but there is a small "HD" logo on their preview image, so you don't even have to click through to see what they're offering. The site is also mobile-friendly and I found that the quality didn't really suffer whether I was on my phone or computer.
Price and Final Thoughts
The final thing to mention would be the price. While it's free to browse, if you want to get the babes naked and naughty it will require a private chat and that will cost some coin. Prices range from less than $2/minute to around $5/minute, but the most common price I saw was $2.99/minute, which isn't bad. At that price there are plenty of performers who will rock your world live, so head on over and browse for free and then drop some cash when you find your perfect babe/cam combo (there will most definitely be many that fit the bill).
Click Here To Visit Website
Similar 🏆 Top Cam Sites