This is my review of Panty Bay. These European performers are very sexy and some allow you to buy their panties! It's completely free to check out and most of these live shows are in HD. Email your comments.

Pros
Can purchase the performers' panties
HD cams
Good number of performers online
Cons
Lacks search and filter options
Some expensive cams
Bottom Line
Panty Bay differentiates itself from lots of other cam sites by providing performers who aren't the same babes you'll find on many other sites. But even more original is the option to purchase the woman's panties after the show and have her send them right to your door. The cams are high in quality and although there are some expensive babes here, there are also some asking a more reasonable price and it's free to check out before you decide to pay anything, anyway.
My Full Panty Bay Review
Would You Like to Chat With a Hot Chick and Get Her Panties?
Now, I will say that while I don't have an obsession with women's panties like some of my friends do, I definitely enjoy looking at them on and off hot chicks and I will admit that I have even kept a few pairs from some of my conquests over the years as a reminder of the babe and the experience we shared. So, with that in mind I was intrigued by what I saw when I found Panty Bay.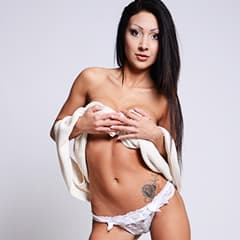 Yes, You Can Really Get the Model's Panties Sent to You
With so many cam sites out there all basically providing the same service and often the same girls, PantyBay stood out in a couple ways. First off was the fact that while browsing I didn't recognize many of the sexy performers. I'm not saying they're all exclusive to the site, but these Euro hotties (mostly Eastern European) weren't super familiar to me, which was pretty exciting.
The second thing that stood out was the panty option. The site has "panty" right in its name and the reason for that isn't because these performers keep their panties on during their shows. No, you will get full nudity and full naughtiness in the private shows (trust me on that one). But after the show you can have the girl take her panties from the show, seal them in a bag and send them to you!
I should mention that not every babe offers this. But those that do provide a service that I can't recall seeing on any other sex cam site I've visited and for about only $3 it seems like a really good deal for panty lovers. I mean, heck, I even tried out the service one time after a really hot show with a gorgeous babe from Budapest. I just had to have that black thong she was wearing and now I do!
Nice Interface But It Isn't Perfect
Panty Bay has a nice clean design with big preview images, but as I spent more time on the site I started to notice things missing – namely, any search or filter options. In fact the only way to browse the babes is by scrolling down the page. There is no advanced search or category list so that I could find, for example, blonde babes or all the big-tit chicks or hotties who like anal or MILFs rather than coeds, etc. An advanced engine is something I really look for on a sex cam site and not having it is a bummer. And with there often being around 100 babes online, it would really help me find some of the more specific things I look for at times.
Filled With High-Quality Girls and Cams
I have mentioned a few times already that the chicks on the site are hot and sexy, but it never hurts to mention it again. The ones I chatted with were also quite friendly and playful and open to being nice and dirty for me. And I got to fully enjoy all that dirtiness because the cams are HD. Image quality was great and the movement was nice and fluid.
What Does It Cost?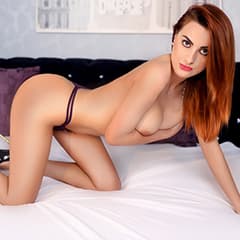 Well, that depends on the performer since they look to all set their own prices. It will also depend on the credit package you purchase since they all equal out to $1/10 credits, but the more you buy at once the more free credits you get added onto your purchase. For example, the best package option comes out to $1/13 credits. But what does that all mean?
Well, I saw a variety of prices being charged by the girls, but it does look like most of them are about $4-$6/minute for a private chat. The lower end of that isn't cheap, but it is on par with many other sites out there. Whereas at $6/minute I felt like it was getting expensive. But some chicks are asking $3/minute so if you look around you do have options. You can see their private chat fee before you even enter their free chat room so that helps you browse quicker as well.
Live Chat and Used Panties - And It's Free to Check Out
Sure, the site isn't perfect and there are a few things it can work on. But the purchase-the-panties gimmick is original and intriguing and even if that doesn't interest you, there are very hot and horny Euro babes on high-quality cams and these aren't the same chicks as on every other cam site, either. Sure, some of the pricing is a little high, but again, there are different options and it's free to check them out and chat them up before you decide to pay anything. PantyBay is worth checking out!
Click Here To Visit Website
Similar 🏆 Top Cam Sites