Want to chat with the most vibrant cam girls online? Then you'll love Stream Young. You'll only find 18 and 19-year-old webcam babes here. Send me your thoughts by email!

Pros
300+ cam girls online 24/7
Mobile-friendly interface
HD webcams that look 4K
Cons
Some expensive private shows
Account required to chat
Bottom Line
Stream Young is dedicated to bringing you sexy cam girls who are 18 and 19 years old. Yes, that's right, these are all teen cam girls and you'll never come across one who's 20. This is a sleek-looking cam site with about 300 performers online at a time who are using HD webcams that are so sharp, they look 4K! You can't chat for free unless you create an account, and private shows are generally expensive, but any girl you spend money on is going to be worth it.
My Full Stream Young Review
Feel Young With Teen Cam Girls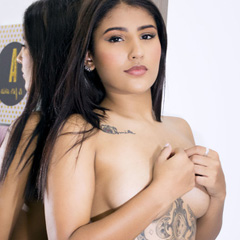 Anytime I hear the word stream, I think, "Great, another new streaming service I have to sign up for!" But I already knew I was in for something way better than that when I saw the site name Stream Young. In case it's not obvious, this is a live cam site focused solely on teens - and I don't think I need to tell you just how wild younger cam girls can be (but I'm going to anyway!).
Chat With 18 and 19-Year-Old Babes
Right off the bat, I noticed that the oldest cam girls here are 19. You'll never see anyone older than that, so when they say they're going for "young" cam girls they are true to their word. And I guess it's true what they say - girls this age are wild! I chatted with one redhead who was telling all the users in her room how much she loves having anal sex and letting guys cum inside her pussy. I wanted to chat with her longer, but I needed to create an account first because there's no free chat before that on StreamYoung.
Making an account is free, but you can't create one unless you have a credit card on file. You won't be charged, though. Sure, this is convenient if you decide to buy "gold" at some point (their version of tokens), but I know you might not like the idea of having to hand over your CC info right away.
Always Girls to Talk to 24/7
By the time I created my account and put in my info, the cam girl I wanted to chat with was in a private show. Thankfully, I had about 300 other mostly European babes to choose from, and that's the average number you'll see all day. I saw slim girls, busty babes, even some with tattoos and piercings - most of them were white though. You can browse a few dozen categories like Redhead, Blonde and Feet Fetish. Strangely, they have a mature category, but since this is a cam site focused on teens, no one was live.
Choose From a Variety of Live Shows
I finally landed on this cute blonde girl and was anxious to take her private, but she was charging $8/min. And that doesn't even stop other users from spying on your show. To prevent that, you have to select Full Private, which is more expensive. In her case, it was $12/min. Thankfully, looking through her profile, I spotted lots of naughty pics that enticed me and comments from other users that said she was well worth the money, so I decided to give it a shot. So while it's sometimes expensive to go private (I spotted one chick asking $20/minute!) it looks like all these babes are on their way to becoming pros and know exactly how to put on a fantastic show.
Another option is a Gold Show, which is just their fancy way of saying group show. A performer will set a monetary goal and ask users to contribute. If she reaches it - most are set between $100-$150 - anyone who helped is treated to an exclusive private group show. If you don't want to go that route, you can always have fun tipping her to activate her smart sex toy and watch her squirm in pleasure. The more you tip, the stronger the vibration!
A Sleek Interface and HD Webcams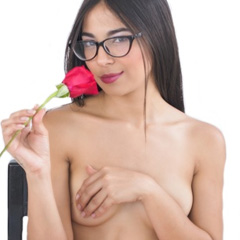 After finding a cam girl you like, you can save her to your favorites and sign up to get notifications by text whenever she's online. You can customize when to get these notifications too. Let's say you don't want your phone going off during dinner, you can customize it so that you won't get disturbed during that time.
The sleek, clean interface looks great, whether you're on the desktop or mobile version. And finding a chick you want is easy with all the filters they provide that are based on body type, region, whether they have teledildonics and a few others. You'll also love that you can hover over any thumbnail and get a free preview of what she's doing.
These are some of the sharpest webcams I've ever seen. You can play with the settings a little in the streaming player and set it to 720p as the highest, but honestly, I spotted a few girls who were using cams that looked 4K! I was actually worried I might've been watching a pre-recorded video. So I tested it out by saying hi and the girl immediately responded with, "Hey paul, how's it going?" And on that note, you'll be able to hear them perfectly. I had my headphones on and the way she whispered and moaned had me feeling like I was watching a sexy ASMR video.
The Fountain of Youth is Alive on StreamYoung
What can I say? If you want to chat with horny young teens, then you need to check out Stream Young. There's not much you can do until you create an account and keep your credit card on file, but at least they won't charge you until you decide to buy some gold. And, hey, these teens are fun to chat with. There's almost no limit to the fantasies you can fulfill with them.
Click Here To Visit Website
Similar Reviews of Live Cam Sites