On TopCamSites.com you can read new reviews weekly as well as user ratings and opinions on all the live XXX cam sites that the internet has to offer. Send your comments by email.

Pros
New reviews weekly
User reviews in addition to staff reviews
Cons
No members' area screenshots
Bottom Line
I really hate when I want to bust a nut and instead of finding the best live cam site right away I waste a bunch of time being scammed or tricked. On TopCamSites you can find the right site without worrying about hidden costs and scams. They lay out all the information you desire for a bunch of my favorite live cam sites. There are new reviews weekly by both paid professionals and users. I would recommend this site in a heartbeat for its simplicity and ease of use.
My Full Top Cam Sites Review
Find Out Which are The Best Cam Sites!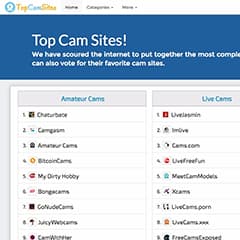 We all want to see what's up and learn where the hottest webcam chicks are (at least if you're like me). You want to know who has the hottest ass, best tits and HD webcam so you can really see what you're paying for. Sometimes you find the piece de resistance of cam girls, other times you get the bottom of the barrel. And when you get the bottom of the barrel I bet you get turned off and angry. This is something I personally like to avoid and I like to help others avoid it too. That's why I look for live cam review sites such as the one up for review today, TopCamSites.
Here's how it works. The site boasts a list of all the cam sites on the WWW along with ratings of each one. With each rating comes a review, as well as users' reviews (although not for every single one). This is a nice little detail because not only can users leave reviews, but they can also vote for their favorite cam site. To me this is a super cool feature. These detailed reviews let you know which sites have that wow factor and which ones will have you coming back for more. With the users putting in their two cents, you can read reviews from amateurs and experts alike.
Simple Layout & Really Easy to Use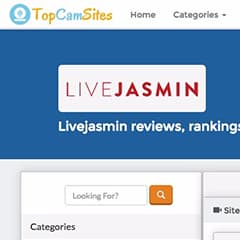 The site is simple with a homepage already giving you options to explore. There's a category list on the side of the page so you can delve straight into a type of cam site if you know what you're interested in. Or you can check out the featured sites, which were some of my favorite cam sites, including Streamate, Dirty Roulette and more.
These Reviews Don't Skimp on the Details!
Once you get deep inside a review you can find out all sorts of things. First I would recommend checking out the overview, which gives you a brief outline of what each live cam site is about. Then if you still want more information you can check out the site features that tell you whether the site has HD cams, if there're paid performers, what kind of chats you can enter, etc.
There's a pricing section that tells you what it costs to sign up and if there are any fees hidden around the corner. Then the review goes into the pros and cons and gives you a final analysis of whether or not the site is worth it. If you scroll down below the review you'll find user ratings and reviews as well as featured sites that are similar to the one you're browsing.
The Mobile Site Works Perfectly
Want to browse the site on the go? Check out the mobile-optimized interface. When you access it on your phone it all fits-to-screen and has a handy drop down menu as well as all the categories nicely laid out for you.
Well there you have it, folks. That's what I think of TopCamSites. It's well laid out with easily accessible information, new reviews every week, and user ratings and opinions. Don't take my word for it, though, check it out for yourself. My only complaint is that I would've liked to see some members' area previews so I could get an idea of what the site looks like while I read the review.
Click Here To Visit Website
Similar Live Cam Reviews

Get both user and staff reviews. Top Chats gives you all the info you need about live cam sites and the type of performers you'll find, so you can pick the best one for you.

RabbitsReviews is the best place for adult reviews. Their list of live cam sites is thorough and provides you with useful information about both free and paid chat sites.
Sign Up and Hear From the Experts
Updates, opinions and offers from dedicated cam users just like you!

Top Cam Sites gives you info on, you guessed it, the best live cam sites. Read reviews from both users and staff to get a good idea of the online fun you could be having right now.

MyCamGirl realizes the importance of the cam performer in your enjoyment of a live show. That's why they provide reviews, information, photos and videos for hundreds of hot girls.

Sex Cams 101 presents a simple and easy-to-navigate site filled with mini and full reviews of live chat sites. Read and compare info to find the best one for you.

Reviews of all the best adult cam sites are on Cam50. The site provides honest information about each as well as giving it a score. Use it to decide which live sites to check out.

The live cam reviews on Sex Cam Reviews provide detailed and honest comments from experts and users. The information is very helpful in deciding which site to visit.

With a clean interface, Xer Cams provides honest reviews of cam sites. There are lengthy posts for each site as well as ratings and stats that will help you decide which ones to join.