MyFreeCams is arguably one of the most popular live cam sites. It's certainly stood the test of time, having been around for over 15 years. Obviously, you don't get to achieve that level of success unless you're doing something right. And if you checked out my review, then you already know I'm a fan. But there are a couple of things that make the site unique, namely some of their features. Some people tend to overlook them and go straight to the thumbnails of all the pretty girls (hey, I don't blame you), but I wanted to take a moment to highlight some of the cool things you can do on My Free Cams.
1. Trending Rooms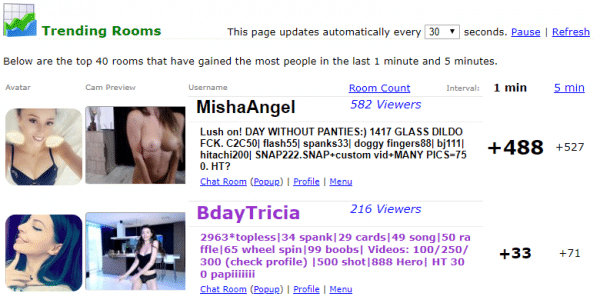 Let me describe something that's happened to me far too often. I spot a hot cam girl on some site, get excited, click through to her room, only to have my hopes dashed because the girl is laying on her bed looking utterly exhausted after what could have only been one great group show. And I missed it.
That's why I love the Trending Rooms feature on MyFreeCams. Whenever a room starts to get a spike in visitors, it's presumably because the girl is doing something exciting. When that happens, the room begins to trend and will show up on this list. The page is continuously refreshed, so as long as you keep an eye on it, you'll always know which rooms have the hottest action at that moment.
2. Miss My Free Cams
MyFreeCams is really on to something here. They know that when their models are motivated, they succeed. And when the girls succeed, so does MyFreeCams. So, as an extra incentive, every month they hold the Miss My Free Cams contest, where the top-earning girls receive a monetary prize along with various pendants, or even a crown, indicating their success. So, why is this good for you as a cam viewer? Well, in a nutshell, the top girls are there for a reason and now they're easily accessible.
3. The Model Explorer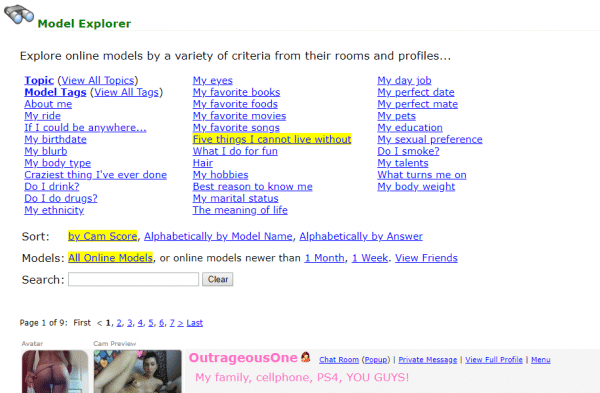 The model index is one of my favorite features and, admittedly, one I have spent a lot of time on. Essentially, you'll be able to explore babes based on a variety of criteria that range from something simple like their body type and hair color, to things like their favorite songs, marital status, education, day job, perfect date, or even if they drink or do drugs. I've used it to find girls who enjoy things like comic books and video games, because there's nothing hotter than a girl who's naked, who also happens to enjoy the same things you do!
4. Customizable Panels

Okay, so this might seem like a less impressive feature to some, but I really appreciate it. All the panels that you see to the right of the MFC homepage are completely customizable. You can arrange them in any order you like, or hide them from view. There are even a few private message options to play with here.
5. Model List Settings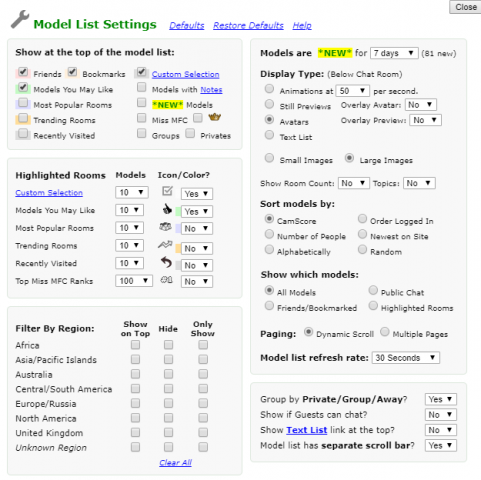 Finally, you can customize how you want to have the list of cam girls displayed. This is one of the most in-depth tools I've ever seen. Just take a look at the screenshot above. You can customize exactly who you want to see based on various locations and the sort models by tons of different options.
Make Use of These Features for the Best Experience
By taking advantage of all the features offered by MyFreeCams, you'll truly make the most of your time here. Obviously, the cam babes are the highlight of the site, but having all these options and fun features to play around with is very helpful and really makes the site stand out from the crowd. So check them out and enjoy your time on MyFreeCams!