I'm lucky enough to devote a good portion of my life to camming – given that I've followed my bliss – and have turned my hobby into a business. But many folks have day jobs that make it tricky to chat with their favorite cam performers who might only be available at odd hours – especially if they live in a different time zone. You can only call in sick to work so many times, so I've got some alternative ways for you to visit your fave cam girl even when she's offline.
Check Out Instagram #webcamgirls
View this post on Instagram
The biggest reason Instagram is appealing is that it's free. But even if the price is right, their ban on explicit images puts a dent in their popularity. Some users claim to have found ways around the rules, but either way, you can still track down sexy nonnude pics of cam girls.
I've seen some pretty hot lingerie photos and lots of thong shots (I like 'em best upskirt), like an incredible photo that Jackie Jupiter posted a while back! Occasionally, though, your fave performer may have set her account to private – I guess some gals don't want to give away even their nonexplicit images for nothing in return.
Do Cam Girls Post Twitter Nudes?
The reality is that as much as the nude selfies Twitter has to offer are plentiful, most of the nude girls Twitter has are pornstars. When it comes to cam performers, they promote themselves in a more tame way. They don't reveal too much, because they want you to spend money on live cams or fee-based sharing platforms.
For example, Kati3kat likes to tease her fans with sexy and playful posts, but often they're grainy or out of focus. It's a trick used in a lot of cam girls' Twitter posts to give you just enough of a free taste – sometimes they also add a watermark to keep it from being misappropriated.
See Nude Snapchat Girls Who Cam
In a 2014 university study, researchers were surprised to discover that only 1.6% of respondents had used Snapchat for sexting. Granted, 14.2% did admit to sending sexual content of some sort over its network at some point – I mean you can find plenty of sites claiming they deliver the hottest Snapchat nudes and free premium Snapchat videos.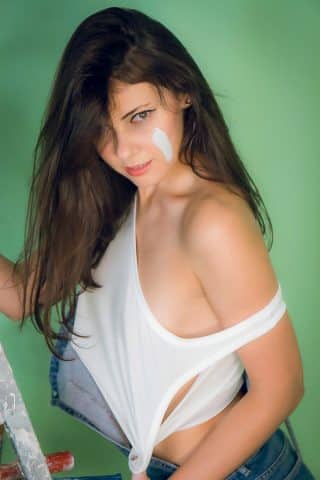 Of course, it ends up being an ideal social media platform for cam girls, not only for Jackie Jupiter and Miss Aracely but also Miss Luscious, who all have premium Snapchat accounts – "private" is how they normally describe them. If you're wondering exactly what you'll get, these babes drop hints on their other social media pages or free public Snapchats. Generally, they post daily images and videos – basically, nude Snapchat stories.
Live Chat is Still the Best
In the end, nothing beats looking these gals up on Chaturbate or My Free Cams. And as far as scheduling goes, if I want to say up late to chat, I have a caffeine power nap first. If I shotgun an energy drink and sleep for 20 minutes, I wake up completely wired. But if you'd rather not mess with your circadian rhythm, consider expanding your repertoire of favorites to include girls who perform at different times throughout the day. After all, any time is a good time to cam!