I've talked about my love for California girls in the past – and well, I'm doing it again! Can you blame me? Is there anything better than strolling along Venice beach or the Santa Monica boardwalk and looking at all the gorgeous sun-kissed babes in bathing suits and daisy dukes? Probably not. 
One day, while having a bit of fun on Chaturbate, I met a Californian hottie by the name of BlazeFyre. Within seconds of chatting with her, she not only became my new crush, but she also made me want to hop on the first flight out to L.A.! Even my girlfriend, Isabelle, felt the same way.
Who is BlazeFyre?
So here are the basics about Blaze. She's a young, slim blonde babe in her early twenties with stunning green eyes and 32C breasts. She's also super active across almost all social media platforms. She's on Instagram, Snapchat, Twitch and has her own YouTube channel. 
Check out this video of her "failing" on a hoverboard:
She's also pretty artsy and recorded a video of herself drawing a self-portrait. I loved watching it for her voice alone:
Who knew Blaze could be so much fun to watch before she even takes off a single piece of clothing!?
Chat With a Fun California Babe
I won't lie, as fun as Blaze is, it was her live show on Chaturbate that had me wanting to skip town and head to California! I mean, this chick is fun with a bubbly personality, and her live shows are some of the wildest and steamiest sessions I've ever had with a cam girl!
She's open to all sorts of requests and loves showing off her boobs, pussy and feet. She also sells things like her used panties and worn lingerie, and for $165 she'll call you for an hour-long private conversation. I wasted no time joining her fan club so I could get access to her recorded videos where she rides a Sybian while sucking dick and gives us fantastic closeups of her pussy while she fucks herself with a dildo – among other videos, of course!
Surf On Over to This Babe's Chatroom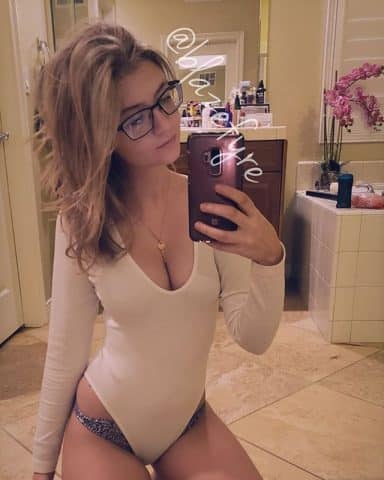 As novelist Sarah Mlynowski once said, "They write songs about California girls for a reason." I'm not exactly sure what context she said that in, but either way, it seems like musicians find inspiration in these babes because of their carefree personalities and to me, BlazeFyre embodies that true California spirit in so many ways. I guarantee she'll become one of your favorite cam girls.